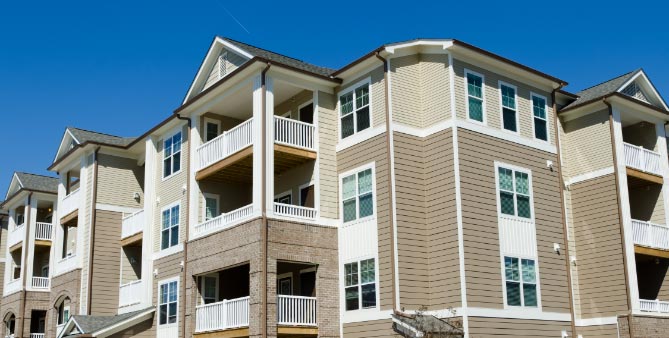 Fannie Mae Scattered Sites - Property Eligibility
Fannie Mae Multifamily provides financing for properties with 5 or more residential units. If a property considered for financing includes multiple 5+ unit buildings on one tax parcel the property configuration is considered eligible. If the property consists of multiple 5+ unit buildings on separate tax parcels and the parcels are contiguous the property configuration is eligible. Under this same scenario if the buildings/parcels are non-contiguous the property is ineligible - although a lender can obtain a waiver/exception from Fannie Mae as long as the property(s) are operated as one.
In mid 2016 Fannie Mae made changes to its definition of eligible property types to better define properties with multiple buildings - whether on one tax parcel or multiple tax parcels. The changes are specific to properties Fannie Mae considers scattered site.
Scattered site is any property securing a Fannie Mae mortgage loan that includes any non-multifamily housing units (i.e. a building with less than 5 rental units).
To summarize, this is any proposed loan with a building that is less than 5 units – regardless of whether or not it's contiguous or non-contiguous, and regardless of whether or not it's on one tax parcel or multiple tax parcels. For example: a property with 5 four-plex buildings (all contiguous or one one parcel) is considered scattered sites.
For properties considered scattered site, Fannie Mae will provide preliminary feedback (prior to formal loan submission) as to whether or not the collateral is acceptable.
CREFCOA requires - at a minimum - the following diligence to submit to Fannie Mae for consideration:
Property Addresses
Site plan / map (indicating tax parcels)
Photos
Zoning report - if available
Operational History - has the property always operated as multifamily (one property)
Rent Roll - identify all non-multifamily units/buildings on the rent roll
Prior two years and year to date income and expense statement
Got 5 minutes?
Request a custom quote today!
Provide some basic information about the property and the financing you're seeking and through our proprietary lending platform CRELP we'll provide you with the most competitive quotes available.
Private. Confidential. Secure. We never sell or provide your personal information or email address to unrelated third parties.
Eligible property types Multifamily property types: 5+ Unit Apartment Building, 5+ Unit Townhome Style Contiguous, 1-4 unit Residential Contiguous, 1-4 Unit Non-Contiguous > 5 units, 5+ unit Fractured Condominium, Mobile Home Park, Student Housing, Affordable Housing With LURA, Affordable Housing With Section 8, Affordable Housing With HAP, Seniors Housing With Care, 55+ Seniors Housing Without Care, Military Housing, Cooperative