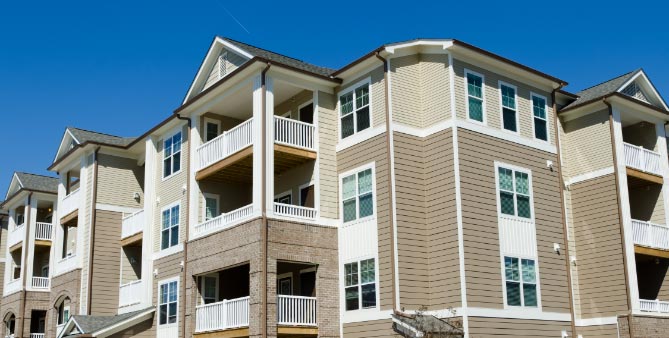 Banc Series Major Markets Apartment Loan Program Overview
For average or better quality multifamily properties located in major markets, the Banc Series Major Markets program provides qualified properties and sponsors with highly competitive and rates and aggressive terms. Rates are competitive with secondary market products without some of the downsides (defeasance or yield maintenance prepays, replacement reserves, rate lock at commitment).
Highly competitive rates and aggressive terms
Property and location driven
No tax returns or bank statement requirements
Non-recourse available
Low DSCR (1.15) maximizes loan dollars
Rate lock at Letter of Intent
Banc Series Major Markets Apartment Loan Program Guidelines
$500,000 minimum loan size - no maximum
1.15 minimum DSCR
Up to 75% LTV
Interest rate lock at time of LOI
5, 7 and 10-year fixed rate terms
30-year amortization
Interest only options available
Step down prepay (e.g. 3,2,1)
Recourse and non-recourse available
650 minimum credit score
Loan converts to adjustable rate at the end of fixed term based on 6-month LIBOR
1% periodic rate cap
Interest rate floor is equal to start rate
10.5% lifetime interest rate cap
90% minimum occupancy required
No rate lock or commitment deposits
Rate lock at Letter of Intent
Streamlined closing process
Mixed-use with up to 25% commercial income and square footage acceptable. A minimum of 5
residential units required
Impounds for tax and insurance not required
Replacement reserves not required
Got 5 minutes?
Request a custom quote today!
Provide some basic information about the property and the financing you're seeking and we will provide you with a custom quote designed around your specific needs and financing objectives.
Private. Confidential. Secure. We never sell or provide your personal information or email address to unrelated third parties.
Eligible property types Multifamily property types: 5+ Unit Apartment Building, 5+ Unit Townhome Style Contiguous, 1-4 unit Residential Contiguous, 1-4 Unit Non-Contiguous > 5 units, 5+ unit Fractured Condominium, Mobile Home Park, Student Housing, Affordable Housing With LURA, Affordable Housing With Section 8, Affordable Housing With HAP, Seniors Housing With Care, 55+ Seniors Housing Without Care, Military Housing, Cooperative
Apartment Loan Helpful Links
More Choices
Better Decisions
Unbeatable Rates
Unbeatable Terms
Ease and Convenience
Simplified Loan Process
What you need to know about the Banc Series Major Markets Apartment Loan Program
Pluses
Property and location driven. Unlike most other programs, there are no defined sponsor net worth and liquidity requirements. No personal debt to income calculations or global debt to income calculations.
Tax returns and bank statements not required
Reduced documentation requirements
No true loan committees
Non-local ownership okay
Minuses
Limited footprint. Desired lending areas are in the metro areas of designated cities
Slightly below average properties and/or properties located in below average locations are typical ineligible
Slightly longer initial screening process (LOI)
Annual financial reporting requirements
Exceptions or out of the box situations typically not considered
Eligible Locations
Financing provided for properties located in the metropolitan areas of Los Angeles, San Diego, San Francisco, Sacramento, Orange, Portland, Seattle, Denver, Minneapolis, Chicago, Boston, New York, Philadelphia and Washington DC.