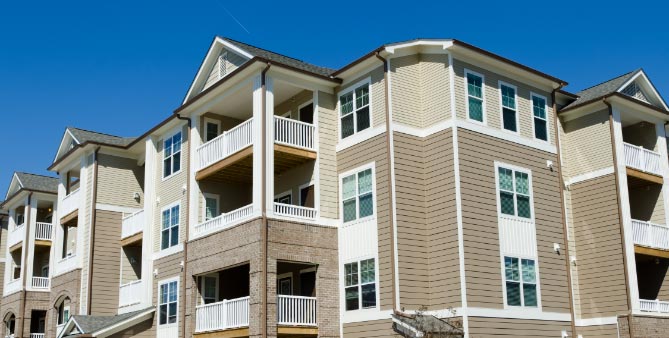 Banc Series California Apartment Loan Program
California is one of the largest and most diverse markets for multifamily housing. Multifamily properties located in California require more than just a "one size fits all" approach to financing. The Banc Series California Apartment Loan program provides the most competitive rates and terms and greater flexibility in underwriting guidelines to help maximize your investment in California multifamily housing.
Specialized financing for CA properties
Industry low 1.15 DSCR
Interest only payment options
Reduced rates for lower leveraged deals
Rate lock at LOI
Reduced and no prepay options
Banc Series California Apartment Loan Program Guidelines
$1,000,000 - $15,000,000
1.15 DSCR
Up to 75% LTV
Rate lock at approval
3, 5, and 7-year fixed rate terms
30-year self amortizing terms
Interest only up to 5 years
Flexible prepay structure - pay up to 20% per year without a prepay penalty
660 minimum credit score
Loan converts to adjustable rate at the end of fixed term based on 12 MAT
.50% quarterly rate cap
Interest rate floor is equal to start rate
Lifetime cap is the greater of 5% over the start rate or 9.5% plus any price increases
90% minimum occupancy required
Limited seismic reports (liquefaction report)
Mixed-use with up to 25% commercial income and square footage acceptable. A minimum of 5 residential units required
Impounds for tax and insurance not required
Replacement reserves not required
Eligible property types include, 5+ unit traditional apartment complexes, condo properties without fractured ownership, town homes, duplexes, high-rise. Properties with more than 25%
Studios considered on an exception basis.
Properties with off-street parking only are prohibitive
Personal recourse required (non-recourse considered for lower leveraged deals)
Got 5 minutes?
Request a custom quote today!
Provide some basic information about the property and the financing you're seeking and we will provide you with a custom quote designed around your specific needs and financing objectives.
Private. Confidential. Secure. We never sell or provide your personal information or email address to unrelated third parties.
Eligible property types Multifamily property types: 5+ Unit Apartment Building, 5+ Unit Townhome Style Contiguous, 1-4 unit Residential Contiguous, 1-4 Unit Non-Contiguous > 5 units, 5+ unit Fractured Condominium, Mobile Home Park, Student Housing, Affordable Housing With LURA, Affordable Housing With Section 8, Affordable Housing With HAP, Seniors Housing With Care, 55+ Seniors Housing Without Care, Military Housing, Cooperative
Apartment Loan Helpful Links
More Choices
Better Decisions
Unbeatable Rates
Unbeatable Terms
Ease and Convenience
Simplified Loan Process
What you need to know about the Banc Series California Apartment Loan Program
Program descriptions, highlights and underwriting guidelines are helpful when considering if an apartment loan program is right for you and your property. However, they don't always tell the whole story. Below is what you need to know about the Banc Series California Apartment Loan program that program guidelines and highlights don't tell you.
Pluses
Most competitive program for CA multifamily properties (rates, terms, prepay, costs, etc.)
Typically able to obtain higher loan dollars on debt service constrained loans
Recently relaxed seismic requirements for both property and third party reports
Local underwriting and decision making
Minuses
Select markets only
Best rates and best terms available. Therefore, underwriting is picky about asset quality and strength of sponsorship
Slightly longer processing times
Tax returns required
Global DSCR calculation
Minimum liquidity and net worth requirements
Eligible Locations
Financing provided for properties located in the metropolitan areas of Los Angeles, San Diego, Orange, Santa Barbara, Ventura, Sonoma, San Jose, Napa, San Francisco, Contra Costa, Alameda, San Mateo, Santa Clara and two counties in Washington State (King and Snohomish Counties).
Other markets in metro California considered on a case by case basis.
CREFCOA acts a referral agent only for properties located in California.